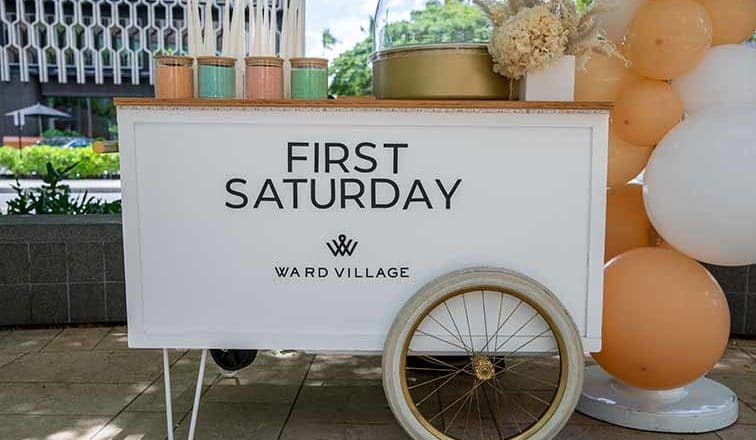 First Saturday
1st Saturday of the Month
Overview
FIRST SATURDAY
Location: South Shore Market Courtyard
Date: Saturday, April 1
Time: 1pm (while supplies last)
Join us at the South Shore Market Courtyard on Saturday, April 1 for our crowd-favorite First Saturday event. Starting at 1pm, Lemon Supply will be serving up "croffles" (waffles made with croissant dough, glazed with sugar and honey, with a dusting of powdered sugar on top) and lemonade, complimentary while supplies last!
FIRST SATURDAY WORKSHOP
Location: Ward Centre (Ewa Wing)
Date: Saturday, April 1
Time: 1pm – 4pm
Interested in learning how to make traditional Hawaiian crafts? First Saturday festivities continue at Ward Centre from 1pm to 4pm on April 1 with a haku wristlet-making workshop with KĪPUKA by Nā Mea Hawaiʻi!
Upcoming Dates
Saturday, April 1

1:00 pm - 4:00 pm

Saturday, May 6

1:00 pm - 4:00 pm

Saturday, June 3

1:00 pm - 4:00 pm

Saturday, July 1

1:00 pm - 4:00 pm

Saturday, August 5

1:00 pm - 4:00 pm

Saturday, September 2

1:00 pm - 4:00 pm

Saturday, October 7

1:00 pm - 4:00 pm

Saturday, November 4

1:00 pm - 4:00 pm

Saturday, December 2

1:00 pm - 4:00 pm